In the seaside town of Brighton in 1963, Francis Henshall has just been fired from his skiffle band. Despondent and desperate for fish and chips, Henshall ends up in the employ of Roscoe Crabbe, a small-time hood from the East End of London. But it turns out that "Roscoe" is really his twin sister Rachel in disguise, because Roscoe was murdered by Rachel's boyfriend Stanley Stubbers.
As fate would have it, Stanley is also hiding out in Brighton and waiting to be reunited with Rachel, and employs Henshall, as well. In order to keep both his jobs Henshall, who is also working on a romance of his own, must keep his two guvnors from discovering each other… will he succeed??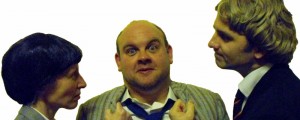 Find out by booking tickets NOW! £8 from Barron's, Holyrood Street, Chard.