Review by Steve Sowden, Chard Press

Chard Entertainment Society took to the stage this evening (Wednesday, October 5, 2016) for the opening performance of their hilarious Vicar of Dibley production. The show is based on sketches from the much-loved TV sitcom starring Dawn French as the larger-than-life woman vicar Rev Geraldine Grainger.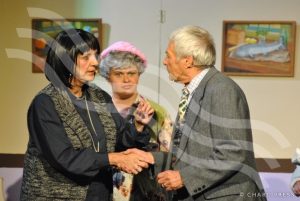 The Chard Press went along to see some of the dress rehearsalon Monday (October 3, 2016) evening and it really does have some proper Laugh-out-Loud moments of pure comedy. The best compliment we can pay to the cast was that at times it felt as if the actual stars of the TV show were on stage.
The relationships are effervescent including that of Rev Grainger (played by Caroline Markham) and the hapless Alice Tinker (Judith Izzard), while Adam Chudley looks as if he was born to play bowel-problem-ridden Owen Newitt, played so memorably in the TV show by Roger Lloyd-Pack.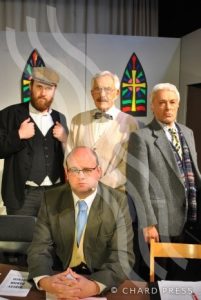 The parish council scenes are so well portrayed and you almost feel the pain, suffering and frustration of chairman David Horton (played by Leigh Conley) as he struggles to put up with the likes of Mrs Cropley (Amy Stoodley), Frank Pickle (Dick Arnold) and no-no-no-no-no-yes Jim Trott (David Penticost).
Unfortunately Andy Treble was unavailable for Monday's dress rehearsal, but we are sure that the ever-dependable local actor will be excellent in his role as Hugo and his romantic relationship with Alice will be something to behold.
Chard Entertainment is pleased to report that the show played to packed houses and received considerable acclaim from delighted audiences.