After staging high quality musicals for over 50 years Chard Light Operatic Society is changing. At a recent Special General Meeting the members voted to become Chard Entertainment Society and expect that the new name and a broader range of productions will encourage more people to join the group and widen its appeal to local audiences.
The Society tested the idea of moving away from exclusively musical productions in 2014 when it staged Dad's Army and the Walmington-on-Sea Wartime Concert in association with the Royal British Legion and followed this in 2015 with a highly successful production of 'Allo,'Allo!
Now, in its new guise, the Society is to team up with Chard Carnival Committee to present 'All the Fun of the Fair' during Carnival week – on 7th, 8th and 9th October at Chard Guildhall. This is a modern jukebox musical love story, based on the songs of David Essex with a book by Jon Conway. It has successfully toured the UK twice in recent years as well as running for a limited season at the Garrick Theatre in the West End. What's more, it's set in a fairground, making the show a most appropriate production for Carnival time.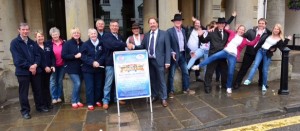 Chard Entertainment Chair, Neil Wells, is delighted to be associated with Chard Carnival this year. "As a young child, I remember taking part in the very first Carnival over 47 years ago. In those days, there was always a show on at The Guildhall during Carnival week and my older brothers used to take part."
"As a community activity Chard Carnival is an important local event which not only gives a great deal of pleasure to both participants and onlookers, but also raises a valuable funds for good causes", Neil commented. "We are very pleased to join forces with Chard Carnival Committee to promote this year's event and hope that the town will come along and see Chard Entertainment Society's production of 'All The Fun Of The Fair'."
Tickets cost £8 in advance and will be on sale from September 14th from Barron's, Holyrood Street, Chard or £10 on the door each night.